The Dudleys: A Family Game
by Leegrid Stevens
Directed by Jacob Titus & Leegrid Stevens
In The Dudleys! A Family Game, family memories are brought to life as a malfunctioning 8-bit video game. Vic returns to his childhood home late one night and discovers his old NES. As he plays vintage games from his youth, he starts remembering…and his memories become the game itself. By dodging ghosts, undying zombies, and evil Aunts side-scrolling through the neighborhood, Vic tries to win a game that might not be for winning.
The Dudleys features original chiptune music composed on an Atari, Commodore 64, Gameboy, and Nintendo as well as original life-size 8-bit video footage.
Watch the trailer for the show!
Video Design – Reid Farrington
Scene Design – Jonathan Cottle
Lighting Design – Simon Cleveland
Costume Design – Heather Carey
Sound Design – Dana Haynes
Original Composition – Leegrid Stevens
Choreography – Melinda Rebman
Assistant Director – Callie Farnsworth
Props Designer – Justin Cox
Stage Manager – Jessica Schmidt
Video Specialist – John Erickson and Jorge Garcia-Spitz
Animators – David Bengali, David Mauro, Angela "Overkill" Hill, Roger Miller, Dan Monceaux & Leegrid Stevens
Press Representative – Toro Communications
Produced by Charles Quittner and Lianne Kennedy
Assisted by Richa Verma
Performances at HERE Arts Center
Production History:
LMCC's Swing Space Development program
Workshop production at the Dream Up Festival, Theatre for the New City, NYC
Workshop production (Tutto Theatre) in Austin TX (pictured)
**Winner Of A New York Innovative Theatre Award**
**Oustanding Innovative Design**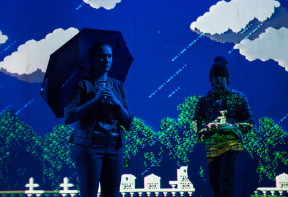 "something truly innovative…with stunning visual effects"
–Medium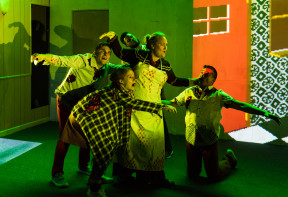 "an impressive visual look and innovative score"
–Huffington Post