Loading Dock Theatre is proud to bring back Forklift, our reading and developmental program presenting works in progress by exciting writers and directors, in our space in Brooklyn.
Curated by Artistic Associate Charles Quittner, previous Forklifts have included the talents of Daaimah Mubashshir, Troy Deutsch, Asia Gagnon, Sam Schanwald, Ryan Szelong, Thicket and Thistle, Noah Mease, Scott Reynolds, Charlie O'Leary and our very own Leegrid Stevens!
Find our more about past Seasons of Forklift here.
2022 SCHEDULE
May 14 @3pm
lonely people on the internet
By Claire Greising
An Amish teenager, a nonverbal speedrunner, a divorced agoraphobe, and a part-time cam model daylighting as an online therapist enter a chat room.
Reserve your seat here: https://tinyurl.com/NoETAXLoadingDock
May 14 @5:30pm
Erastes
By Andres Osorio
Two boys enter a ritual apprenticeship with the same mentor and a third boy is abducted by a God. Elsewhere in time, Swimboy develops a crush on his teacher and Lucas uses Grindr for the first time. A collection of stories from Ancient Greece to the present day, examining intergenerational relationships and the line between lover and mentor.
Reserve your seat here: https://tinyurl.com/NoETAXLoadingDock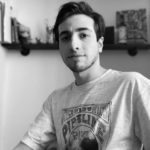 May 15 @3pm
Let's Talk About Anything Else
By Anthony Anello
A year after their friend's untimely passing, a group of friends escape to the Berkshires for a week-long getaway. Despite their efforts to keep their pasts outside the walls of their secluded cabin in the woods, their grief continues to haunt them. A dark comedy about bugs, strangers in the woods, and the unrelenting grasp of guilt.
Reserve your seat here: https://tinyurl.com/NoETAXLoadingDock